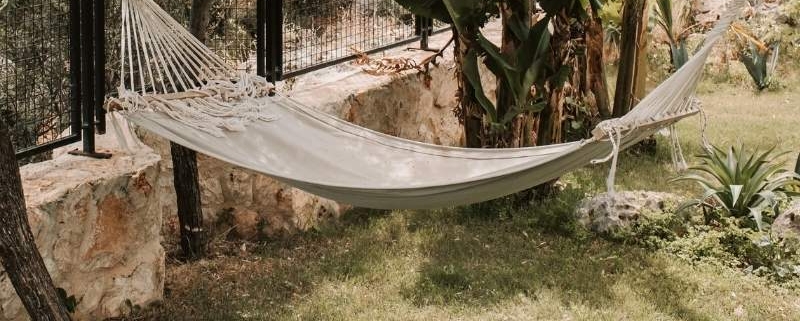 Celebrate National Hammock Day in style by following our tips to make your very own hammock.
With the summer of 2022 already providing us with the hottest temperature ever recorded in the UK, we thought we'd help you enjoy the heat and celebrate National Hammock Day with our tips on how to DIY your very own hammock.
Hammocks: A history
Yes, believe it or not, today is National Hammock Day! A day designed to celebrate the use and history of these unique reclining tools. Hammocks were first used as sleeping tools by the native inhabitants of Central and South America by using bark woven from a hamack tree – which is where the name hammock comes from. They were great for native inhabitants as they provided them with better protection from snakes, insects, diseases and other harmful predators due to being suspended from the ground. Though you're very unlikely to come across any of these in your garden, chilling out in a hammock is still a great way to relax while soaking up the summer sun.
Here's how to make your own:
Making your own hammock
Now, the quality of the hammock you're able to make for your garden will depend on your skills and craftsmanship. For more experienced DIYers, check out this brilliant YouTube tutorial from Dunn Lumber. Our proffered method comes from Design Sponge and involves making a hammock from an old beach towel – requiring only a small number of materials and a basic sewing ability.
For this you'll need:
A cotton beach towel or a piece of fabric that measures at least 40×80 inches
Scissors
Pins
1 inch of leather (if you have a sewing machine that can sew leather) or nylon or canvas strapping if not
At least 4×40 inches of mid or heavyweight cotton muslin or canvas
Rope (durable enough to hang the hammock)
Zip-ties
Cotton twine
Cut and fold beach towel
The first step is to lay out your beach towel and cut out a 42-inch x 80-inch rectangle. Then simply fold the 1-inch side over and sew up the sides to create a 40" x 80" rectangle.
Cut and add muslin/canvas strips
Now cut two strips at 2-inches from your muslin/canvas and place them level with the top and bottom edges of the hammock. Then fold the fabric over and pin them securely. This will create a 2-inch hem.
Cut and fold strapping
Take your strapping and cut it into 18, 6-inch lengths. This gives you 9 for each side of your hammock. Fold each of these lengths in half to create 3-inch loops and pin 10 of these over your 2-inch hems on both the top and bottom edges. Make sure these are evenly spaced at around 5.25-inches. Note that the ends of the loops should hit the seam.
Sew your loops
Position your needle over the lower left-hand corner of the first loop and sew one loop at a time to form a box with a cross inside – securing your loops. Repeat on both sides, making sure to cut extra threads after each one and that your hammock is facing the front side up if you're using a sewing machine.
Make your hanging loops
To do this, cut 18 lengths of rope at 8-inches each. Loop through each of your sewed-on loops and fold them in half so the strands are 4-inches long. Then create a final large loop with the loose ends of the strands. Tie all of these strands into a big knot 30 inches down the rope from the hammock. Make sure you cut the loose ends off and wrap another length of rope around the loop. Finally, wrap your cotton twine around the loop repeatedly until you have a thick clean loop that can take the weight of the hammock and its user. Repeat on the other side and you're done! You now have your very own DIY hammock.
And if you have any other furniture items that need some love or repair this summer, don't hesitate to find your nearest Furniture Medic business for bespoke furniture repair from our experts.
By Tom Page, Digital Content Writer
https://www.furnituremedic.co.uk/wp-content/uploads/2022/07/Pexels-Hammock.jpg
800
800
Tim Marshall
https://www.furnituremedic.co.uk/wp-content/uploads/2015/11/furniture_medic_logo_web.png
Tim Marshall
2022-07-21 11:48:15
2022-07-21 11:48:15
How to make a DIY hammock