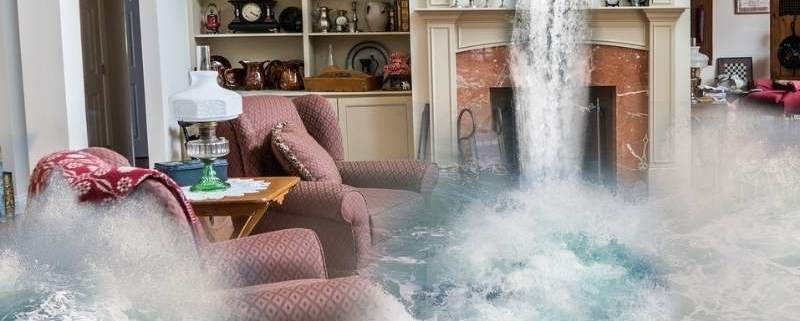 There are a few ways to save flood damaged furniture and these are the ones we recommend:
Take Photographs of your flood-damaged furniture
After any home disaster, you should always take photographs of any damage to your property for insurance purposes.
Take a wide-angle photo of the affected rooms
Take multiple closeup photos of any damaged furniture
Send photos to your insurance company
Clean your flood-damaged furniture
Flood water from burst river banks will bring in mud and dirt to your property, therefore, cleaning your furniture afterwards is important.
Wipe down with a soft cloth (Use soft strokes, instead of rubbing as this will ensure you're gently brushing the dirt away)
Some dirt may be harder to get off, so just use a bit of clean water to help remove it
Dry with a clean cloth
Even with clean water if any pipes burst in your home, cleaning your furniture is something you must do.
Wipe down any water stains with a soft cloth
Dry with a clean dry cloth
If any water stains remain, you can call your local Furniture Medic to assist
Completely dry out your flood-damaged furniture
You will need to dry out any flood-damaged furniture as soon as possible.
Remove all items, any drawers and where possible any shelving. If these are stuck from any swelling of the wood, leave until the swelling has reduced and then remove
Keep out of direct sunlight as the sun's rays can cause the wood to warp and crack
If water remains on any floors you'll need to carefully elevate any furniture using bricks or something similar to assist in the drying process. Alternatively, where possible move out of the affected room
We would recommend setting up fans or dehumidifiers in your home to help with airflow and to speed up the drying process
DO NOT be tempted to use any kind of heat-producing items, like a hairdryer, as this will damage any wooden furniture
Managing any mould and mildew
In a damp and warm environment, mould and mildew thrive, therefore, keeping your eyes on your furniture during the drying process is important.
Mould and mildew on any furniture will usually come into effect after around 48 hours of being in this kind of environment. If any does occur, do the following:
Clean off with a dampened cloth that has been dipped in a lukewarm and soapy water solution
You can also use white vinegar and water to wipe over the mould or mildew
Always wipe again with a dry cloth and repeat if any more mould or mildew reappears
Drying out upholstered furniture
The majority of any upholstered furniture that has been affected by flooding will more than likely need reupholstering as the fabric will dry discoloured and will smell musty.
Leather and vinyl upholstery are more water-resistant and therefore are usually salvageable.
We would always recommend calling in the experts to help with any flooding in your property. This would include ServiceMaster Restore to help restore your property after a flood and ourselves to restore your furniture.
For help restoring flood damaged furniture find your local Furniture Medic business here.
https://www.furnituremedic.co.uk/wp-content/uploads/2021/09/house-flood-1.jpg
800
800
Tim Marshall
https://www.furnituremedic.co.uk/wp-content/uploads/2015/11/furniture_medic_logo_web.png
Tim Marshall
2021-09-14 11:24:38
2021-09-14 11:24:38
How to save flood damaged furniture