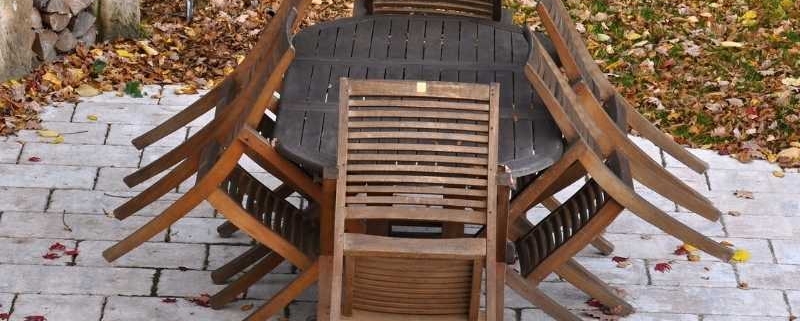 With the weather turning and winter just around the corner, it's time for your garden furniture to have a well-earned rest.
Adverse weather conditions can have an effect on all types of outdoor furniture, be it plastic, wood or metal. Here are some tips to help you know what to do with your furniture during winter:
Clean, clean, clean
After being stuck at home most of the summer, we're pretty sure your furniture would have been put to good use and probably needs a good clean!
Here are some quick tips to clean your outdoor furniture:
Firstly, remove cushions and machine wash these if possible, according to the care instructions. If you can't machine wash, then these can be cleaned with warm soapy water and a sponge.
Use hot soapy water to wipe down the furniture (including your parasol), giving all a good scrub, from all of the gathered dirt and grime, from people that have sat on it from your numerous garden parties.
Give the furniture a quick rinse with cool water and wipe off any excess water.
Leave to dry where possible, fingers crossed it doesn't rain in the next couple of days for you!
Storage solutions
Cushions
You need to be careful where you store your furniture, especially the cushions.
No – Your garage or shed will not have the best insulation and will cause damp to affect your cushions, so do not store them in there.
Yes – Instead, store them inside where possible, maybe in an airing cupboard or the cupboard under the stairs.s
Ensuring they are stored as they are and not in a plastic bag or airtight container is important to allow them to air.
Parasol
Storing your parasol inside is important again to ensure it isn't open to the elements of the cold winter months.
Slightly different from storing cushions, your parasol can be stored in a plastic sheet if needed.
Furniture
Now for the furniture, the majority of you will probably not have room to store them inside your home, however, if you can then definitely do so.
For those of you that cannot store your furniture inside here are some tips:
Place the furniture underneath some kind of sheltered area in your garden
Use some kind of furniture covering, a plastic sheet would be fine
Tie-down the plastic sheeting or furniture cover as efficiently as possible
Now you know how to store your garden furniture correctly during the winter, you will have it ready to be used when spring has sprung.
If you find anything broken, stained or anything else wrong with your garden furniture, give your local Furniture Medic UK a call.
Find your local Furniture Medic UK here.
https://www.furnituremedic.co.uk/wp-content/uploads/2020/10/protecting-furniture-winter-blog-FM-2.jpg
800
800
Tim Marshall
https://www.furnituremedic.co.uk/wp-content/uploads/2015/11/furniture_medic_logo_web.png
Tim Marshall
2020-10-28 13:56:24
2020-10-28 13:56:24
Protecting your garden furniture during the colder months