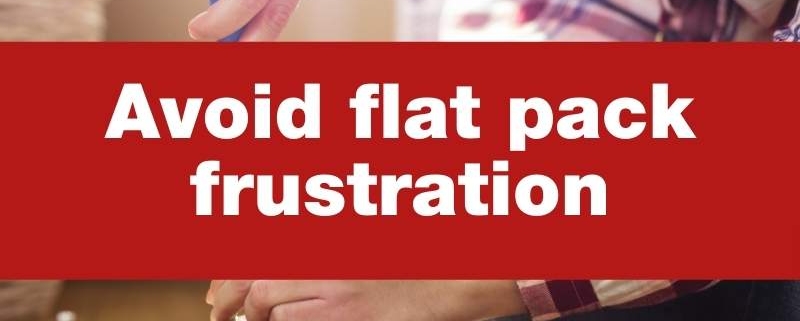 To aid the hapless DIY'er and prevent flat pack frustration, the experts at Furniture Medic have produced their ten top tips for success when facing a jigsaw of furniture pieces:
Be thorough; it may seem obvious enough but many people go wrong by failing to get the basics right. First give yourself plenty of time, then start by laying all the pieces out, ensuring that all the components are present and identify which way round each individual part goes.
Follow the instructions – they are correct. It is amazing how many people think that they don't need to do this.
Keep any protective film on door/drawer fronts until after assembly as it will prevent fine scratches occurring during construction.
Ensure that there is plenty of room to manoeuvre the item once it is assembled i.e. enough height to lift a wardrobe up if the instructions state the item has to be assembled flat on the floor.
Don't over tighten screws as this may result in the screw protruding out the back of the furniture.
Have the correct recommended tools at hand.
Don't overuse glue supplied and allow any glue used to dry for 24 hours before using the furniture.
Ensure the item is level (using a spirit level) when adjusting doors.
When fixing items to the wall insure you avoid plumbing and electric wires.
 Finally, always have a spare pair of hands at the ready; you never know when you might need them especially if the item is heavy.
If, however flat-pack leaves you feeling flustered, call in your local Furniture Medic who will assemble your furniture quickly, efficiently and very cost-effectively.
https://www.furnituremedic.co.uk/wp-content/uploads/2022/01/flat-pack-FM.jpg
800
800
Tim Marshall
https://www.furnituremedic.co.uk/wp-content/uploads/2015/11/furniture_medic_logo_web.png
Tim Marshall
2022-01-24 11:52:23
2022-01-24 11:52:23
Avoid flat pack frustration – Top ten tips