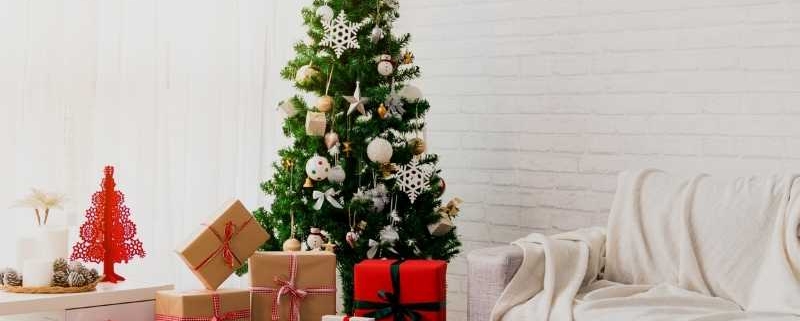 A lot of us will be taking some time out of this weekend, or during the following week to bring out the Christmas tree from hiding and decorate it with the family. The Christmas tree is the focal point during the festive season, so your furniture is most probably going to have to be reorganised a bit!
Here are our top tips for organising your furniture to make room for the Christmas tree.
Use any space you have
If you're buying a new tree this year make sure you've taken measurements of the space you're wanting to ensure it fits!
If you already have a fake tree then you may want to change things around a bit this year and have the tree in a different position in the room. If this is the case erect it in that spot and walk around the room to see how it looks, then move the furniture accordingly.
Bay windows can be useful
If you're wanting to display your Christmas tree to the world then a bay window is a great place to put it on display and share the Christmas spirit!
If you can move the furniture to a different spot in the room and reorganise the room a little bit then do so. If not you could just move the sofa or whatever piece of furniture you have in the bay window a little bit forward to fit the tree in.
Change up your home
If you want to get really into changing your furniture around in your home you could take a look at feng shui, but that's a bit advanced, so we'd advised to move it to your liking.
Move side tables, move sofas or maybe even the tv unit, just mix it up and do something different, you and your tree deserve a change this year!
Ensure it's the focal point
As mentioned above your Christmas tree is the most christmassy item you can have in your home, so make it the focal point!
Decorate around the Christmas tree and increase the number of decorations around your home this year, we all need that little bit more Christmas spirit this year!
Is your furniture ready for Christmas?
Are there are any items of furniture in your home that would benefit from a bit of TLC? Maybe a few rips or just general wear and tear, find your nearest Furniture Medic and contact us today for any furniture repairs or restoration you may need in order to be ready for Christmas.
https://www.furnituremedic.co.uk/wp-content/uploads/2020/11/organising-furniture-for-tree-blog-FM.jpg
800
800
Tim Marshall
https://www.furnituremedic.co.uk/wp-content/uploads/2015/11/furniture_medic_logo_web.png
Tim Marshall
2020-11-27 11:59:49
2020-11-27 11:59:49
Organising your furniture ready for Christmas