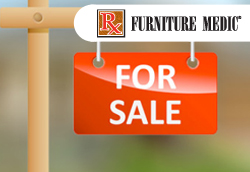 Spring has always been an optimum season for selling houses, when demand for properties outweighs supply and prices are usually at their most buoyant. Preparing your home for viewings is vital as first impressions are important, so here's our handy hints for ensuring your home stands out from the rest.
De-clutter
Mess and clutter can really put off a potential buyer. Items you don't use on a daily basis should be put in the attic or into storage, likewise with large pieces of furniture. This can help make rooms look much bigger.
When putting furniture into storage, try to protect the items and keep them dry and at an ambient temperature. Wrap wooden furniture in a large cloth – an old bedsheet makes a great cover.
When moving furniture, be careful not to snag door frames and scratch walls. Remove the feet from sofas and the drawers from any units you're relocating. If you do nick or scratch a doorframe, here's a quick fix:
Sand the area down lightly, removing any splinters and wipe down
Apply a little wall filler to the area, keeping the filler on the dry-side
Once dry, sand lightly and wipe down
If needs be, apply a little more filler
Sand lightly and wipe down again
Using the same colour as the frame, apply paint to the area and around the area to blend. Keep your brush light so that you don't apply the paint too thick.
Allow to dry
Freshen up
A fresh coat of paint on the walls can make the place feel so much fresher, as can a touch-up on the doors and doorframes. When re-painting wooden items, place a sheet on the floor for protection. Lightly sand the area first, wipe down and apply eggshell or gloss as appropriate. We're only touching up so undercoat isn't necessary at this stage, unless of course you have the time.
If a piece of furniture or upholstery is not looking its best and cannot be moved into storage, why not call Furniture Medic to make precession repairs to all types of furniture and upholstery, making them look like new.
Prospective buyers want to envisage themselves living in your home, so don't put give them a lasting image of a damaged or scratched kitchen table, ripped sofa arms or chipped wooden floor. A small investment to repair can work wonders.
Clean up
If you don't have time to redecorate, it's important the house is spotless.
Dusting your furniture and upholstery is integral to the perception of a spotlessly clean house. However, in your haste, don't cut corners and cause unnecessary damage. This is how the experts do it:
Grab yourself a clean microfibre cloth and lightly spray it with water. You want the cloth to be just damp, not soaked so that it leaves marks.
As you dust, lift each item in the way, dust the item and the surface and place it back in its place – that way you'll always know what goes where. Work your way left to right, top to bottom.
Use a lightly dampened, clean paintbrush for smaller crevices or delicate items.
To finish, spray a furniture polish onto a fresh cloth and pass this gently across the surface. Try to avoid spraying the surface as this can cause a filmy build-up that can attract more dust!
If you're thinking of selling or moving home, consult a Furniture Medic today to ensure your furniture and upholstery is in great shape for viewings. We can also help you with advice for moving your furniture from one property to another. Find your local furniture restoration experts here.
https://www.furnituremedic.co.uk/wp-content/uploads/2016/02/fm-forsale.jpg
172
250
Tim Marshall
https://www.furnituremedic.co.uk/wp-content/uploads/2015/11/furniture_medic_logo_web.png
Tim Marshall
2016-02-03 16:20:22
2016-04-28 13:03:33
Make your home stand out