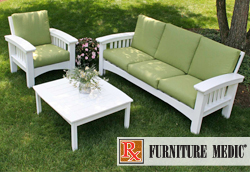 Summer is finally here and as we may get to experience some hot weather for the first time this year, we thought it was time for us to share our garden furniture care tips. This handy advice should help you to protect your investment and to keep your outdoor furniture looking its best for years to come.
How often should I clean my garden furniture?
Whatever the material of your furniture, it should be protected from the elements when not in use. Ideally, store it away over winter, cleaning and drying it thoroughly beforehand. Be sure to check the manufacturers instructions to find the best way to clean your garden furniture. 
Give it a good clean when you bring it out in the spring before use
During the summer months, it's a good idea to tackle any stains or marks that occur straight away and keep it as clean as you would your indoor furniture
How do I look after my wooden garden furniture?
Much of the modern garden furniture that we see today has an oil finish to it which requires regular maintenance as this kind of finish is not permanent.  Each time you wipe your table or chairs down, a small amount of the finish is removed.
When purchasing an item, it's best to enquire what type of oil it has been finished so that you know for future reference
In order to keep your furniture looking at its best, apply the oil every one to two months
Does plastic garden furniture need any special care?
Plastic outdoor furniture is more resilient to the elements than metal or wooden furniture and it is definitely the easiest to look after.
To clean your plastic furniture, remove any stains or marks with a mild soap and then simply hose it down
Avoid using abrasive cleaners or scrubbing brushes as this can scratch the furniture
To add a nice shine, try using your regular furniture polish
How do I look after my metal garden furniture?
Aluminium is a popular choice for outdoor furniture as it's lightweight and doesn't go rusty. However, it still requires regular cleaning. Be sure to check the manufacturers instructions to find the best way to clean your furniture
To clean painted metal furniture, ensure it's fully dry before you start and then clean out any dirt from the joints and seams with a soft brush. Mix water with a little washing up liquid or gentle soap and gently clean away any dirt with a soft cloth or sponge. Allow it to dry outdoors if you can or buff it dry with a soft, dry cloth
Store the furniture indoors if possible when not in use and ensure it is dry when you do so
Clean wrought iron furniture with a solution of mild soap or washing up liquid and water. Leave this to dry out thoroughly – It's a good idea to tilt the feet to ensure that the item dries fully
Most modern-day metal furniture has been treated to prevent rusting and corrosion, but if it does occur and is caught early enough, then a tarnish remover can be used to bring it back to new. Before attempting to remove any rust, check the manufacturers instructions to find the best method to remove this
What about my awnings, umbrellas and cushions?
These have a tendency to attract mildew, a type of mould that grows on fabric. To tackle this, we recommend using an ammonia-free soap or washing up liquid
If the material is pale, use chlorine-free bleach solution to remove any mouldy spots or stains. Rinse the pieces of furniture and dry thoroughly.
If your garden furniture gets damaged, contact your local Furniture Medic here to see what they can do to restore it. 
https://www.furnituremedic.co.uk/wp-content/uploads/2016/05/fm-garden-furniture.jpg
172
250
Tim Marshall
https://www.furnituremedic.co.uk/wp-content/uploads/2015/11/furniture_medic_logo_web.png
Tim Marshall
2016-06-24 14:01:09
2016-07-13 11:28:08
Dust off the garden furniture