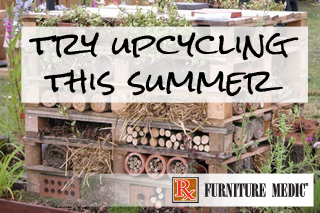 Upcycling is the latest craze!  It's an even an even greener way of recycling – you find a new purpose for your unwanted items before they get thrown away. 
For example, you might use an old woolly jumper to make a cushion cover or a pair of wellies with a hole in the bottom as a stylish planter for some parsley! Instead of buying expensive arts and crafts sets for your children, keep hold of old egg boxes, cardboard boxes and other containers – you'll be surprised how long some unwanted cardboard and a set of paints can keep children amused.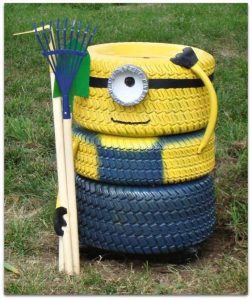 Upcycling helps the environment in several ways;
1.Your old items aren't going to landfill sites, where methane gas is released, which contributes to climate change.
2. There's no need to recycle them in the traditional sense, which requires energy and resources.
3. You can save money! If you can make use of old items, it could save you buying new things
So, before you start filling your recycling bags, have a think about other uses for your unwanted bits and pieces and you'll not only help the environment, but should also save yourself some money too. Check out this fun way to get painting with the kids and turn some old car tyres into a Minion Flower Planter.
Or why not use a t-shirt to replace the upholstery on some tired kitchen chairs?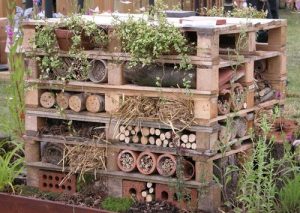 We love this creative use of some old wooden pallets and it's the kind of thing that kids will love to get involved with to create nooks and crannies for bugs and other creepy crawlies. Once the structure is secure (thanks Mum or Dad!) the fun is in thinking up ways to fill each layer to create potential homes for the bees and beetles in your back garden.  If you don't mind the mess, why not get the kids to paint afterwards, using up some of those old cans of paint that have been stored in your shed for the last five years?!!
https://www.furnituremedic.co.uk/wp-content/uploads/2016/07/UpcyclingThat.jpg
213
320
Tim Marshall
https://www.furnituremedic.co.uk/wp-content/uploads/2015/11/furniture_medic_logo_web.png
Tim Marshall
2017-07-08 16:34:39
2017-07-18 13:58:28
Upcycling - a great summer pastime!