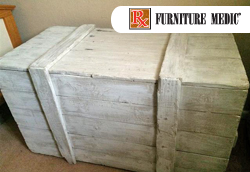 Our furniture restoration experts are often asked to help with an upcycling project or to provide advice for a DIY project. If you have an old piece of furniture needing some love, such as this old toy chest, here's some tips to help you to create a paint washed effect:

What you'll need:
Two colours of chalk paint
Sand paper
Two paint brushes
What to do:
Lightly sand to remove splinters/rough edges if necessary, wipe down
Using chalk paint, apply a base coat. This doesn't have to be neat and not too thick. Leave to dry.
For the contrast colour, add a little water to the chalk paint to reduce consistency.
Using a dry paint brush, dip the tip of the brush in the paint and wipe off excess.
With a very light touch and only the tip of the brush, paint over random areas of base coat. Leave to dry.
Sand back some areas to expose layers beneath.
For a natural look, do not apply a wax or protective finish.
We don't advise trying to create a paint washed effect on brand new furniture with a protective layer. For more advice, contact your local Furniture Medic team, you can find them here.
https://www.furnituremedic.co.uk/wp-content/uploads/2016/02/fm-chest-logo.jpg
172
250
Tim Marshall
https://www.furnituremedic.co.uk/wp-content/uploads/2015/11/furniture_medic_logo_web.png
Tim Marshall
2016-02-01 17:06:24
2016-04-28 13:04:15
How to create a paint washed effect